Vegetables Deluxe - VIC 20
In Memory of Aurora Richmond
--------------------------------------
Background
This is a port of the C64, Amiga and Spectrum puzzle game Vegetables by Mike Richmond for the VIC20. It was converted over a year ago with the aim of a physical release, however as that has stalled we have decided to release it for free with the option of making a donation if you wish, to be shared between Mike and myself.
Requires a VIC-20 with a 3K+8K expansion, or can be played on TheC64, TheVIC20 or any other emulator.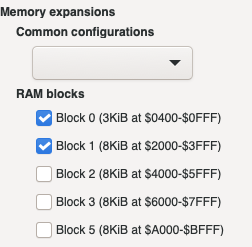 -------------------------------------------------------
Controls
Use the joystick to change which vegetable is selected. Hold fire and press a direction to attempt to swap the vegetable with the one next to it.

While playing, press P to pause and un-pause the game. Press Q from pause mode to quit to the menu screen.
-------------------------------------------------------
Playing Instructions
On the menu screen, use joystick left and right to select a game mode. Press fire to start the game.
The object of the game is to make lines of three or more matching vegetables. To do so, you can swap the position of any two vegetables on the play screen by holding down fire and pushing in a direction. When there are no valid moves left then the board is shuffled – until you run out of shuffles, then it's game over!
Match three vegetables and they are removed from the board, with new shapes dropping down to replace them. Occasionally an immovable block will be dropped. These can only be removed by strategically dropping them until a line of three or more immovable blocks is made. Match four shapes in a row to destroy a full row or line and match five to destroy all matching shapes and get an extra shuffle.
-------------------------------------------------------

Game Modes
There are four game modes, offering a gradually increasing level of challenge.
In casual mode, the emphasis is on a relaxing game, with very few immovable blocks being dropped. It is still possible to run out of moves, so don't get too complacent!
In classic mode, immovable blocks are periodically dropped, making it gradually harder to make matches.
The objective of shopping mode is to make the number of matches indicated on the left hand side of the screen. At first you need to match 3 of each shape to beat the level, with the number of matches you need to achieve increasing each time.
Countdown mode is the biggest challenge of all. You have a short time to make a match before the timer runs out. If you fail to match before then, you lose a shuffle. In this mode, you do not lose a shuffle when there are no valid matches – only when the countdown timer runs out.
Download
Click download now to get access to the following files:
veg20_MVTPB0B1B2.prg
7 kB
Comments
Log in with itch.io to leave a comment.
Pretty nice version !! Arcade mode is very challenging. Good !

TOP!!!
Very Nice game!!
Thanks.